Abilify® Maintena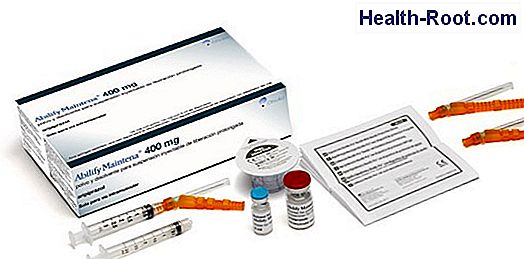 Producer: Otsuka Pharma


contains

Abilify® Maintena is a remedy for psychosis.


Active substances

aripiprazole




Application

Abilify® Maintena is used for maintenance treatment of schizophrenia.




Dosage

Available as powder for solution for injection injected into the sperm after dissolution.

The dose is individual and depends inter alia on of the severity of the disease.




possible side effects
Common (1-10%)

Injection Reactions, Fatigue, Weight Loss, Weight Loss

Dry mouth

Diabetes

muscle stiffness

Anxiety, side effects from the musculature, drowsiness, headache, motor disorder, restlessness, asthenia, drowsiness, dizziness, insomnia, involuntary movement, unrest and restlessness

Erectile Dysfunction

Uncommon (0.1-1%)

Increased waist goals

Liver Impact, Abdominal Disorders

Blood pressure drop when you get up, Extra heartbeat, High blood pressure, Slow pulse, Effect of ekg

Blood deficiency, Increased risk of infection due to lack of white blood cells, Increased tendency to bleeding due to decrease in platelets

Too much fat in the blood, Too much insulin in the blood, Too much cholesterol in the blood, Increased blood sugar, Low blood sugar, Reduced amount of fat in the blood, Sugar in urine, Development of breasts in men, Increased amount of hormone prolactin in the blood

Joint pain, joint stiffness, neck stiffness, back pain, pain in the legs and legs

Mood disorders, depression, emotional instability, hallucinations, hallucinations, mood swings, hyperactivity, long-term movements, panic attacks, parkinsonism, psychosis, suicidal thoughts, stiffness, involuntary movements, involuntary slow movements, involuntary eye movements, muscular persistent cramps, increased muscle tension, increased sexual activity

Eczema, hair loss

Hypersensitivity

Kidney stone

Double vision, Blurred vision, Eye pain

Unknown

Sudden and unexplained death

Inflammation of the pancreas, poor functioning liver, hepatitis

Blood thrombosis in the deep vein, Heartbone, Cardiac arrhythmia, Cardiac arrest, Pneumonia due to vomiting in the lungs, Compression of the musculoskeletal muscles, Liquid accumulation in, for example, arms and legs

Unconsciousness of diabetes, Too much sodium in the blood, Influence of blood sugar

Decomposition of muscle tissue

Aggressiveness, Fainting, Impulsive and Illness, Cure, Impulse Control Disorders, Cramps, Malignant Neuroleptic Syndrome - Serious condition with, inter alia, fever and awareness raising, nervousness, transient state, overeating, suicidal behavior, serotonin syndrome, gameplay, speech distress

Hypersensitivity to sunlight

Allergic reactions (including severe allergic condition with rapid blood pressure drop, respiratory distress and possibly convulsions (anaphylactic shock) and allergic swelling of the face, oral cavity and larynx and urticaria)

Prolonged painful erection, lack of urination, involuntary urination
There has been so-called malignant neuroleptic syndrome - a severe state of fever, awareness raising and several of the above-mentioned side effects. This condition requires immediate medical attention.
In treatment with anti-psychosocial agents, particular disorders of heart rhythm (QTCextension), which in some cases can lead to sudden death.




Pregnancy

Can be used if necessary.


breastfeeding

Should not be used due to lack of knowledge.


Traffic

No warning.


Blood donor

Do not drop. 3 months quarantine after end of treatment.



effect

Works by altering the activity of several signal substances in the brain, thus inhibiting the transmission of nerve impulses in the brain. The agent thus has a calming and antipsychotic effect without acting healing. The antipsychotic effect can only be expected after treatment for 1-2 weeks, sometimes 1-2 months. The effect may last several weeks after the treatment has ended.




Pharmaceutical forms

Powder and solvent for prolonged-release suspension for injection. 1 vial contains 400 mg aripiprazole,

powder and solvent for prolonged-release suspension for injection in a pre-filled syringe. 1 syringe contains 400 mg aripiprazole.




Special warnings
The drug should be used with caution:

For older than 65 years
In the case of very poorly functioning liver (another agent should be used)
In cardiovascular disease
At risk of blood clots
At increased risk of brain bleeding / blood clot in the brain
In case of epilepsy and tendency to cramps.

The drug should not be used in case of the rapid attenuation of schizophrenia symptoms.
There may be a risk of highly elevated levels of sugar in the blood. If you have diabetes or risk of developing diabetes, you should check with your doctor.
Alcohol enhances the sedative effect of the drug.
There is more mortality than normal when treating elderly people with dementia with antipsychotics.
Blood clots can be seen by treatment with antipsychotics. Extra attention should be paid if you have an increased risk of blood clots.
Using other medicines
It is important to inform your doctor about all the medicines you are taking.
A number of agents (including certain antifungal agents, certain antibiotics, certain anti-HIV agents, and certain anti-depressant drugs) may increase the effect of Abilify® Maintena.
Carbamazepine (epilepsy) reduces the effect of Abilify® Maintena.
General caution when using other medicines that may interfere with heart rhythm - such as lithium (bipolar disorder), certain antibiotics, certain anti-depressants, certain anti-arrhythmias and certain anti-psychotic agents. Part of these funds must be avoided. This applies to: Chlorprothixen and pimozide (antipsychotic), moxifloxacin (antibiotic), amiodarone and dronedarone (antihypertensive agents), droperidol (anti-nausea) and vandetanib (anti-cancer).
Concomitant use of certain antidepressants (SSRIs, SNRIs), certain painkillers (tramadol) and certain antidepressants (triptans) may cause serotonin syndrome - a combination of symptoms such as fever, stiffness, tremor, muscle cramps and altered mental condition may be early signs that the condition is developing. This condition requires immediate medical attention. Abilify® Maintena enhances the soothing effect of sleepers, painkillers and antihistamines.
Grants, delivery, packages and prices
| | | | | |
| --- | --- | --- | --- | --- |
| subsidies | extradition | Dispensing form and strength | Packing | Price in kr. |
| | May only be delivered once after the same prescription unless the recipient has stated on the prescription, how many times and with what time intervals additional extradition must take place | powder and solvent for prolonged-release suspension, suspension. 400 mg | 1 set | 3.532,15 |
| | May only be delivered once after the same prescription unless the recipient has stated on the prescription, how many times and with what time intervals additional extradition must take place | powder and solvent for prolonged-release suspension, suspension. 400 mg | 1 set (Abacus) | 2.967,00 |
| | May only be delivered once after the same prescription unless the recipient has stated on the prescription, how many times and with what time intervals additional extradition must take place | powder and solvent for prolonged-release suspension, suspension. 400 mg | 1 set (Paranova) | 2.972,00 |
| | May only be delivered once after the same prescription unless the recipient has stated on the prescription, how many times and with what time intervals additional extradition must take place | powder and solvent for prolonged-release suspension, suspension. 400 mg | 1 set (2care4) | 2.991,00 |
| | May only be delivered once after the same prescription unless the recipient has stated on the prescription, how many times and with what time intervals additional extradition must take place | powder and solvent for prolonged-release suspension, suspension. 400 mg | 1 set (EuroPharmaDK) | Deleted 29-01-2018 |
| | May only be delivered once after the same prescription unless the recipient has stated on the prescription, how many times and with what time intervals additional extradition must take place | powder and solvent for prolonged-release suspension, suspension. 400 mg | 1 set (Orifarm) | 2.949,00 |
| | May only be delivered once after the same prescription unless the recipient has stated on the prescription, how many times and with what time intervals additional extradition must take place | po. and solv. t. depotine liquid, susp., spray 400 mg | 1 set (Abacus) | 3.092,00 |
| | May only be delivered once after the same prescription unless the recipient has stated on the prescription, how many times and with what time intervals additional extradition must take place | po. and solv. t. depotine liquid, susp., spray 400 mg | 1 set (Orifarm) | 3.105,00 |
| | May only be delivered once after the same prescription unless the recipient has stated on the prescription, how many times and with what time intervals additional extradition must take place | po. and solv. t. depotine liquid, susp., spray 400 mg | 1 set (Paranova) | 3.114,00 |
| | May only be delivered once after the same prescription unless the recipient has stated on the prescription, how many times and with what time intervals additional extradition must take place | po. and solv. t. depotine liquid, susp., spray 400 mg | 1 set | 3.532,15 |