Acarizax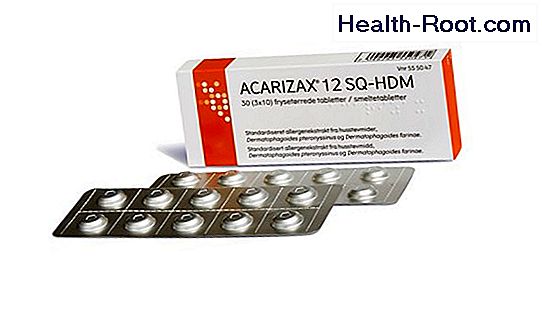 Producer: ALK


contains

Acarizax is house dust mite allergy to allergy.


Active substances

Allergens




Application

Acarizax is used for allergy vaccination against allergy to house dust mites.




Dosage

Available as lyophilized tablets.

Adults and children over 12 years old. 1 tablet a day.
Effect can be expected after 8-14 weeks.
It is recommended to continue treatment for 3 years.
Note:
The tablet should be placed under the tongue where it dissolves.
Sync should be avoided for 1 minute.
In the event of dry mouth, you may wipe the mouth with a little water before taking the tablet.
Food and drink should not be consumed in the following 5 minutes.
Experience is missing about. patients over 65 years of age.
Experience is missing about. patients under 18 years of age with hypoxia-induced allergic asthma.
possible side effects
The most common side effects are local allergic reactions, which start most early in treatment and resume on continued treatment (1-3 months).
Very common (over 10%)

Oral cavity Genes

Cold Symptoms, Neck Syndrome

?rekl?e

Common (1-10%)

Fatigue

Inflammation of the tongue, Diarrhea, Indigestion, Nausea, Abdominal pain, Mouth inflammation, Vomiting, Taste disturbances, Pain in the mouth and throat, Pain in the tongue, Acid inflammation, Ingestion in swallowing, Sore throat

Asthma, inflammation of the throat, sinusitis, sinusitis, swelling of the throat, hay fever, speech sickness, shortness of breath

chest pain

Changed feelings in the mouth

Skeletal skin, hives

eye Itching

Uncommon (0.1-1%)

Dizziness, Change in skin sensation

Blush

Anaphylactic shock - an acute severe allergic condition

Allergic reaction in the eye

Rare (0.01-0.1%)

Swelling of the throat

Allergic swelling of the face as well as the oral cavity and larynx
Should not be used
Should not be used at
diseases of the immune system
severe inflammatory conditions in the mouth with ulceration
severe or poorly treated asthma
concurrent cancer



Pregnancy

Use only under certain conditions.
You usually do not start treatment during pregnancy as there is a small risk of anaphylactic reaction (severe allergic condition with rapid blood pressure drop, respiratory distress and possibly convulsions). Anaphylactic reaction may affect the fetus.
Acarizax does not directly affect the fetus, and it is usually recommended that you continue treatment if you become pregnant unless you experience side effects of treatment.



breastfeeding

Can be used if necessary.


Traffic

No warning.


Blood donor

Must be dropped.



effect

This results in the fact that over a long period of time you are subjected to small quantities of dust mites. In this way, the body's immune system can learn to tolerate house dust mites, so that you can not respond as violently as otherwise.




Pharmaceutical forms
Freeze-dried tablets. 1 freeze dried tablet contains 12 SQ-HDM (House Dust MITE). Standardized allergen extract from Dermatophagoides pteronyssinus and Dermatophagoides Farinae.
Special warnings
First dose should be taken under medical examination with subsequent observation for at least 30 minutes.
Discontinuation of ongoing asthma treatment should be gradual.
The treatment should be adjusted for 7 days after surgery in the mouth, eg dental extraction
Treatment should be with great caution if you have previously had an allergic reaction to other forms of allergy vaccination for house dust mites.
Grants, delivery, packages and prices
| | | | | |
| --- | --- | --- | --- | --- |
| subsidies | extradition | Dispensing form and strength | Packing | Price in kr. |
| | May only be delivered once after the same prescription unless the recipient has stated on the prescription, how many times and with what time intervals additional extradition must take place | lyophilized tablets12 SQ-HDM | 30 pcs. (Blister) | 893,35 |
| | May only be delivered once after the same prescription unless the recipient has stated on the prescription, how many times and with what time intervals additional extradition must take place | lyophilized tablets12 SQ-HDMParanova Denmark | 30 pcs. (Blister) | 892,75 |
| | May only be delivered once after the same prescription unless the recipient has stated on the prescription, how many times and with what time intervals additional extradition must take place | lyophilized tablets12 SQ-HDM | 90 pcs. (Blister) | 2.643,85 |
| | May only be delivered once after the same prescription unless the recipient has stated on the prescription, how many times and with what time intervals additional extradition must take place | lyophilized tablets12 SQ-HDMParanova Denmark | 90 pcs. (Blister) | 2.643,40 |
| | May only be delivered once after the same prescription unless the recipient has stated on the prescription, how many times and with what time intervals additional extradition must take place | lyophilized tablets12 SQ-HDMOrifarm | 90 pcs. (Blister) | 2.645,00 |