Accutin®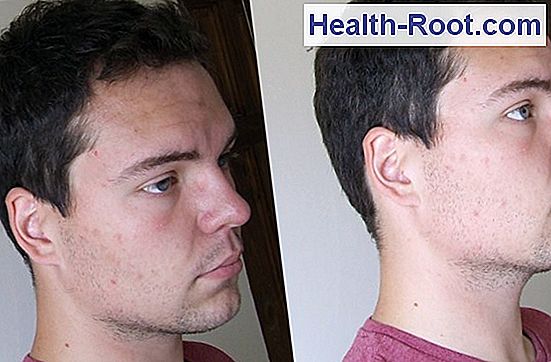 Producer: Sandoz


contains

Accutin® is a remedy for acne. Vitamin A-like agent.


Active substances

isotretinoin




Application

Accutin® is used to treat severe cases of cataracts (cystic acne) where other treatment has not been effective. Recipients on Accutin® can only be printed by dermatologists.




Dosage

Available as capsules.

Adults and children over 12 years old
Initially, usually 0.5 mg per dose is taken. kg body weight per day, divided into 1-2 doses.
After approx. 4 weeks of treatment, the dose is determined on a case-by-case basis depending on the effect achieved and the resistance to the drug.
The treatment usually lasts 4-6 months. If treatment for a longer period of time is required, a treatment-free period of 2 months should be submitted.
Note:
The capsules should be taken with a meal.
The delivery of isotretinoin to women of childbearing age can only take place within 7 days of the date of issue of the prescription.
possible side effects
Very common (over 10%)

Inflammation of the lips, liver effect

Blood deficiency, increased tendency for blood clots due to increased platelet count, increased tendency to bleeding due to decrease in platelets

Too much fat in the blood

Joint pain, Muscle pain, Backache

Skin inflammation, Skin rash, Skin rash, Thin skin, Dry skin

Inflammation of the eyelid edges, Dry eye, Eye inflammation, Eye irritation

Common (1-10%)

Cold symptoms, hay fever, nose bleeding, dryness of the nose

Increased risk of infection due to lack of white blood cells

Too much cholesterol in the blood, Increased blood sugar

Headache

Blood in the urine, urine urine

Rare (0.01-0.1%)

Aggressiveness, Anxiety, Depression, Mood swings

Hair Loss

Anaphylactic shock - An acute severe allergic condition, Hypersensitivity

Very rare (less than 0.01%)

Inflammation of the pancreas, inflammation of the intestine, blood diarrhea, gastrointestinal bleeding, hepatitis, bowel inflammation, colonitis

Hoarseness, inflammation of the skin, muscular contractions in the airways

Inflammation of the lymph nodes

Diabetes, Elevated uric acid in the blood, Calcium deposits in soft tissues

Decrease in bone mineral density, Bone injury in children and adolescents, Joint inflammation, Muscle tissue degradation

Behavioral disturbance, consciousness, worsening psychotic symptoms, cramps, suicidal behavior, dizziness

Hypersensitivity to sunlight, redness

infections

Inflammation of the kidney

Color blindness, cataracts, corneal inflammation, swelling within the eye of the optic nerve, hearing loss, night blindness, problems with contact lenses, blurred vision, vision disturbance, blurred vision

Unknown

Severe skin reaction, Severe skin reaction where the skin is destroyed

Sexual disorders (including erectile dysfunction and decreased sex drive)
* Patients who experience severe (bleeding) diarrhea should discontinue isotretinoin treatment immediately.
The side effects usually disappear when the dose is reduced or when you stop taking the drug (eg dry eyes, blurred vision, decreased night vision and corneal inflammation). However, some side effects may persist after treatment has stopped. If you wear contact lenses, it may be necessary to switch to glasses during treatment.
Should not be used
The drug should not be used:
If you have increased blood cholesterol levels
in case of hepatic impairment
if you have taken too much vitamin A
in combination with tetracyclines (antibiotics)
If you are hypersensitive to soy or peanuts.



Pregnancy

Do not use. Pregnancy should be avoided during treatment and at least 1 month after the end of treatment.


breastfeeding

Do not use.


Traffic

No warning.


Blood donor

Do not drop. 2 months quarantine after end of treatment.



effect
Works by inhibiting the activity of the sebaceous glands and thus the formation of blackheads.
The effect only occurs after 4-6 weeks of treatment.
The half life in the blood (T?) is 10-50 hours.
Pharmaceutical forms
Capsules, soft. 1 capsule contains 10 mg or 20 mg of isotretinoin.
Special warnings
Accutin® must not be used by women of childbearing age unless a safe contraceptive is used during treatment and at least 1 month thereafter. Pills should not be used as the only contraceptive, as their effect is reduced by Accutin®.
It is recommended that pregnancy tests be conducted once a month. If pregnancy occurs, abortion is recommended.
During treatment, vitamin Pills containing vitamin A should not be taken.
In case of depression, the product should be used with caution.
In case of impaired hepatic and renal function and cardiovascular disease particular attention should be paid.
Exposure to strong sunlight and ultraviolet light should be avoided.If necessary, a sunscreen preparation should be used with a protection factor of at least 15.
Using other medicines
It is important to inform your doctor about all the medicines you are taking.
Co-administration with tetracyclines (antibiotics) or methotrexate increases the risk of serious side effects.
Accutin® reduces the effect of birth control pills.
When co-administered with anticoagulant (warfarin) dose adjustment of warfarin may be necessary.
Grants, delivery, packages and prices
subsidies
extradition
Dispensing form and strength
Packing
Price in kr.

soft capsules10 mg
50 pcs. (Blister)
Deleted 23-04-2018

soft capsules20 mg
50 pcs. (Blister)
102,10
dyes
Indigotine (indigocarmin) (E132)
Iron oxides and iron hydroxides (E172)
Ponceau 4 R (cochenille red A) (E124)
Titanium dioxide (E171)
substitution
soft capsules 10 mg
Isotretinoin "Orion" Orion Pharma Isotretinoin
soft capsules 20 mg
Isotretinoin "Teva" TEVA Isotretinoin
Isotretinoin "Orion" Orion Pharma Isotretinoin