Actikerall, comb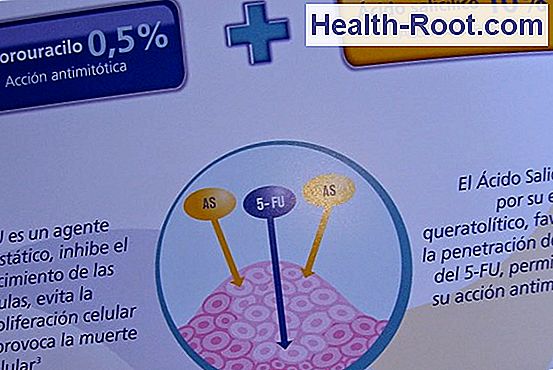 Producer: Almirall


contains

Acticallall is a medicine for the treatment of actinic keratoses (sunk doses).


Active substances

fluorouracil

salicylic acid




Application

Acticianall is used for the treatment of precursors for certain types of skin cancer (actinic keratosis).




Dosage

Available as a solution to brush on the skin.

Adults: Apply with brush once a day.
The treated area should not be covered until after application, but the solution should dry in and form a film over the treated area.
At each brushing, remove the existing film (eg with hot water) by simply pulling it off.
Effect is typically seen within 6 weeks, but you should continue treatment until the spots are completely gone (max. 12 weeks).
Complete healing of the skin is usually seen up to 8 weeks after discontinuation of treatment and treatment should also be continued, although the effect can not be seen after the first 4 weeks.
If serious adverse reactions occur, the frequency of treatment should be reduced to 3x weekly until adverse reactions decrease.
Note:
If you apply Actikerall to skin areas where the skin is extra thin (eg around the eyes), do not use the solution as often.
The total area treated should not exceed 25 cm2 (eg 5 cm x 5 cm).
Should not be lubricated on hairy skin. Hair removal should be considered before using the solution on the skin.
Experience is missing about. children under 18 years old.
possible side effects
Very common (over 10%)

Discomfort at the application site (redness, inflammation, burning, pain, skin itching)

Common (1-10%)

Headache

Severe skin reaction
Whiteness discoloration and peeling of the skin may occur, especially in the area of ??an actinic keratosis.
Contains dimethyl sulfoxide which may cause irritation to the skin.
Should not be used
Acticianall must not be used if you are hypersensitive to the ingredients.
Contact with eyes or mucous membranes should be avoided.
The medicine must also not be used if you have very poor kidney function.
Concomitant use of Actikerall and certain fungicides should be avoided.



Pregnancy

Do not use.


breastfeeding

Do not use.


Traffic

No warning.


Blood donor

Do not drop. 3 months quarantine after end of treatment.



effect

Acticianall contains 2 substances; fluorouracil inhibits the growth of the broken skin cells, while salicylic acid is added to increase the absorption of the agent in the skin.




Pharmaceutical forms

Spot-on solution. 1 g contains 5 mg fluorouracil and 100 mg salicylic acid.




Special warnings
If you have diabetes (diabetes), you may experience sensory disturbances in the skin, so treatment for sunbathing should be monitored closely.
You should protect your skin against excessive sun exposure, especially the treated area.
The drug should not be used in bleeding skin areas.
There is no experience in the treatment of actinic keratoses in an area of ??other skin disease, and the result of treatment may vary with other cohort skin disease.
The cutaneous solution contains dimethyl sulfoxide which may be irritating to the skin.
The product should not come into contact with textiles or acrylic (eg acrylic bath), as the solution can cause permanent stains.
Warning: Flammable - Keep away from open flame or fire.
Using other medicines
It is important to inform your doctor about all the medicines you are taking.
Concomitant use of phenytoin (epilepsic agent) and Actikerall may increase the risk of side effects.
Grants, delivery, packages and prices
| | | | | |
| --- | --- | --- | --- | --- |
| subsidies | extradition | Dispensing form and strength | Packing | Price in kr. |
| | May only be delivered once after the same recipe, unless the delivery takes place in several smaller portions at a time | cutaneous solution 5 mg / g + 100 mg / g | 25 ml | 467,65 |