Adasuve®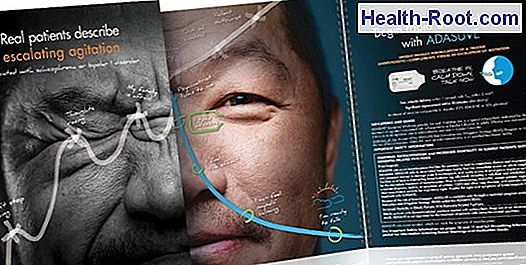 Producer: Ferrer


contains

Adasuve® is a medicine for psychosis. The mean dose Mediterranean.


Active substances

loxapine




Application

Acute treatment of aggression in patients with schizophrenia or bipolar disorder.

Must only be delivered from hospital.




Dosage

Available as an inhalation powder in the inhaler.

Adults. The usual initial dose is 9.1 mg, possibly. repeated after 2 hours. Maximum two doses a day.

Note:
Should only be given under the supervision of healthcare professionals.
Fast acting ?2 (asthma) should be available (due to the risk of developing muscle contraction in the trachea).
Experience is missing about. older than 65 years and young people under 18 years of age.
Experience is lacking in poorly functioning liver or kidneys.
possible side effects
Very common (over 10%)

taste changes

drowsiness

Common (1-10%)

Fatigue

Dry mouth

Irritation of the throat

Dizziness

Uncommon (0.1-1%)

Low blood pressure, Muscle contractions in the airways

Motorist turmoil, Rash, involuntary slow movements, involuntary moving movements, involuntary eye movements
When treated with antipsychotics, so-calledmalignant neuroleptic syndrome, which is a severe state of fever, awareness raising and several of the above mentioned side effects. This condition requires immediate medical attention.
One should consider stopping treatment by indications of involuntary movements.
Should not be used
Adasuve® should not be used for:
Asthma, COOLs or other active diseases of the respiratory tract.
Acute respiratory symptoms.



Pregnancy

Should not be used due to lack of knowledge. This text differs from the company's approved product information (product summary).Do not be used due to lack of knowledge. This text differs from the company's approved product information (product summary).


breastfeeding

Should not be used due to lack of knowledge.


Traffic

Caution is advised in driving and machine operation.


Blood donor

Do not drop. 2-day quarantine.



effect

Works by altering the activity of several signal substances in the brain, thus inhibiting the transmission of nerve impulses in the brain. The agent thus has a calming and antipsychotic effect without acting healing. Half-life In the blood (T?) is 6-8 hours.




Pharmaceutical forms
Inhalation powder, divided. 1 single dose inhaler contains 10 mg loxapine corresponding to a delivered dose of 9.1 mg.
Special warnings
One must be observed for 1 hour after receiving the medicine due to the risk of muscle contraction in the airways.
The medicine should be used with caution in case of reduced breathing (eg due to alcohol or morphine-like substances), increased risk of cramps, cardiovascular disease, glaucoma, urinary incontinence, and previous genes from the musculoskeletal system.
In addition, the drug should be used with caution if there is an increased risk of developing prolonged QT interval - a particular type of rhythm disturbance in the heart. For example, too little potassium in the blood, slow heart rate, various heart conditions, concomitant use of diuretics, and if you are a woman or over 65 years of age.
If you get too low blood pressure that requires treatment, medicines containing adrenaline should be avoided.
Using other medicines
Adasuve® enhances the soothing effect of tranquilizers, sleepers, painkillers and antihistamines.
Certain agents may increase the effect of Adasuve® and should be avoided - eg fluvoxamine (anti-depressant) and ciprofloxacin (antibiotic).
Caution with concomitant use of agents that may dampen breathing (eg, certain tranquilizers and sleepers) or increase the risk of convulsions (eg clozapine (anticonvulsant), tramadol (painkillers) and TCA and SSRIs (anti-depressant agents)).
Grants, delivery, packages and prices
| | | | | |
| --- | --- | --- | --- | --- |
| subsidies | extradition | Dispensing form and strength | Packing | Price in kr. |
| | May only be delivered to hospitals. Delivered according to the provisions for drugs in delivery group A | inhalation powder9.1 mg | 1 piece. | 748,40 |