Alnok®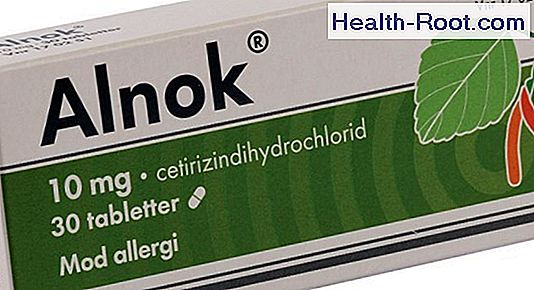 Producer: Sandoz


contains

Alnok® is an anti-allergic agent. Antihistamine.


Active substances

cetirizine




Application

Alnok® is used in hypersensitivity reactions, especially hives and hay fever.




Dosage

Available as tablets and oral solution (liquid to drink).
Adults and children over 12 years old. Usually 1 tablet (10 mg) once a day.
Children 6-12 years. Usually ? tablet (5 mg) twice a day.
Children under 6 years old. Should not be used without the doctor's instructions.
possible side effects
Common (1-10%)

Dry mouth

Drowsiness, sleepiness

Uncommon (0.1-1%)

Dizziness, unrest and restlessness, change in the skin's sensuality

Rare (0.01-0.1%)

Hepatic effects

Swelling due to fluid accumulation in the body

Aggressiveness, Depression, Confusion, Hallucinations, Cramps

Allergic reactions

Very rare (less than 0.01%)

Increased tendency to bleeding due to decrease in platelets

Fainting attacks, involuntary slow movements, involuntary moving movements, involuntary eye movements

Allergic swelling of the face as well as the oral cavity and larynx, anaphylactic shock - an acute severe allergic condition

Involuntary urination

Blurred vision

Unknown

Joint pain

Memory discomfort, suicidal ideation

Severe skin reaction

Lack of urination
Skin pruritus / hives have occurred after discontinuation of treatment, in cases where these symptoms were not present before treatment.




Should not be used

In certain cases of very poor renal function, the product should not be used.




Pregnancy

Can be used if necessary.


breastfeeding

Should not be used due to lack of knowledge. This text differs from the company's approved product information (product summary).


Traffic

No warning.


Blood donor

Do not drop. 2-day quarantine. No quarantine by donation in the form of plasmapheresis.



effect

Works by inhibiting the effect of histamine, which contributes to the development of the allergic reaction. Beginning effect is seen within ? - 1 hour and lasts approx. 24 hours.

The half life in the blood (T?) is 7.5-9 hours.




Pharmaceutical forms

Tablets. 1 tablet (film-coated) contains 10 mg (deletion) cetirizine (as dihydrochloride).
Oral solution. 1 ml contains 1 mg cetirizine dihydrochloride.
Special warnings
The dose should be reduced in some cases by malfunctioning kidneys, and at the same time you have both poorly functioning liver and kidneys.
Caution if you have an increased risk of cramps.
If you need to have one-way test, stop treatment 4 days before.
Caution with increased risk of missing urination (eg spinal cord injury, enlarged prostate) or cramps (eg epilepsy).
Grants, delivery, packages and prices
| | | | | |
| --- | --- | --- | --- | --- |
| subsidies | extradition | Dispensing form and strength | Packing | Price in kr. |
| | Buying hands - not pharmacy-restricted | film-coated tablets10 mg | 10 pcs. (Blister) | not fixed price |
| | Buying hands - not pharmacy-restricted | film-coated tablets10 mg | 30 pcs. (Blister) | not fixed price |
| | Buying hands - not pharmacy-restricted | film-coated tablets10 mg | 60 pcs. (Blister) | not fixed price |
| | Buying hands - not pharmacy-restricted | film-coated tablets10 mg | 100 pieces. (Blister) | not fixed price |
| | Buying hands - not pharmacy-restricted | oral solution 1 mg / ml | 150 ml | not fixed price |
dyes
Titanium dioxide (E171)
substitution
film-coated tablets 10 mg
ZyrtecUCB Nordic Cetirizin
BenadayMcNeil Cetirizin
Cetimax Vitabalans Cetirizin
VialergOrifarm Generics Cetirizin
Cetirizine "Teva" TEVA Cetirizin